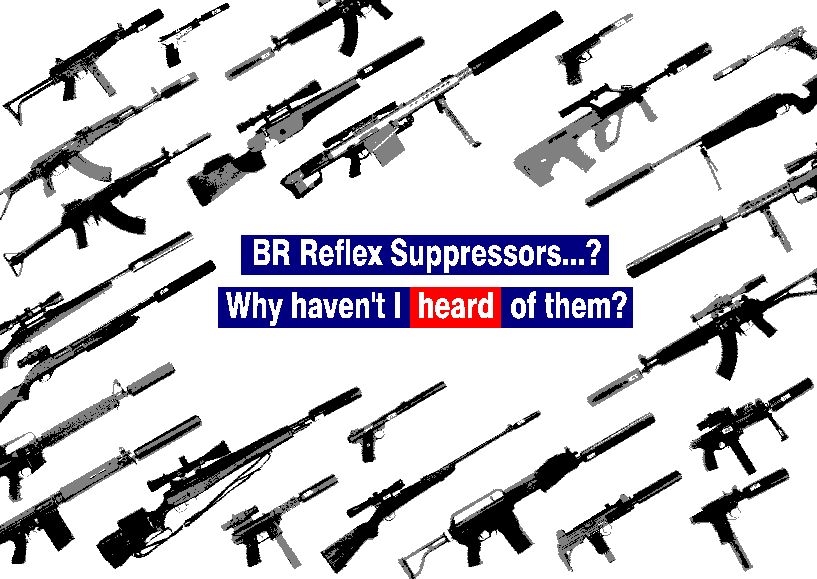 Main General Rifles 50 BMG SMG MG AR Contact License Manufacturing Links Measuring Lyddemper.net Suppressors in France Suppressors in the UK






Reflex Suppressors for Environmental Firearms Noise Control and for Shooter's Hearing Protection

WHAT D'YA SAY?!


- Your hearing is irrepairable property. Once damaged, it is damaged forever. Easiest way to damage it is to shoot unprotected.
- If so, how can I use hearing protection during hunting? I must hear every sound around me!
- Thousands of hunters use sound suppressors today to protect their hearing. So do target shooters, who show consideration not only to themselves, but also to their audience and neighbourhood.
- Is it legal to use suppressors?
- In many countries it is, in some countries you need a licence.
- It must be expensive!
- No more expensive than the scope sight on your rifle.
- What is that suppressor mounted to your rifle?
- It is a T8 Scout Reflex Suppressor. This is already the most popular suppressor among hunters in Finland, Sweden and Norway.
- Where can I get one?


---

Reflex Suppressors pages:

Scientific:

Mounting Reflex Suppressors:

Drawings and Manuals:

Business:

On-Line Magazines:
---


Manufacturer: BR-Tuote Ky, Sahamyllynkatu 33, 80170 Joensuu, Finland, Tel/Fax: +358 13 896862



---


Main General Rifles 50 BMG SMG MG AR Contact License Manufacturing Links Measuring Lyddemper.net Suppressors in France Suppressors in the UK